Chateau Peyrassol & The April Six Pack
The new 2020 Chateau Peyrassol Cotes de Provence Rosé is now in the shops and sells for 31.95 net/bottle. Chateau Peyrassol rivals Domaines Tempier and Terrebrune from Bandol most years, and the 2020 is no exception. We expect that this year's Chateau Peyrassol will be one of the very best rosés we receive this season. There is an exceptionally refined delicacy, elegance and complexity in the 2020 version, and it might turn out to be our favorite ever from this producer!
THE APRIL MCCARTHY & SCHIERING 6-PACK
3 WHITES — 3 REDS
GRAB AND DASH! — 99.95 net
6 bottles for an average price of $16/bottle!
RAVENNA 206.524.9500
QUEEN ANNE 206.282.8500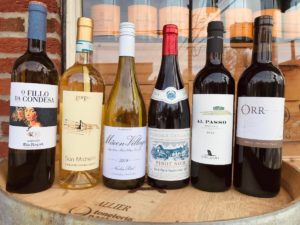 2019 O Fillo da Condesa Albarino Rias Baixas, Spain 13.00 11.05VS
We've enjoyed selling this Albarino for a number of years now, but the new release of the 2019 vintage is exceptional! The Albarino grape variety has been grown in Galacia on Spain's North Atlantic coast for centuries. Aromatics of lime blossom, lemon zest and tangerine precede a vibrant minerality on the palate, with a hint of salinity reminiscent of the sea. Well integrated acidity makes it perfect as an aperitif and with lighter fare.
2019 Gorgo San Michelin Custoza, Veneto 16.00 13.60VS
Made with trebbiano, garganega and cortese grape varieties, this white will appeal equally to those seeking the elegance of Pinot Grigio and the richness of unoaked Chardonnay.
Deep straw yellow with bright hues, the bouquet is vinous, with scents of citrus and ripe pear. Well balanced on the palate, it pairs particularly well with mushroom risotto, baked white fish, or a lighter style seafood pasta. Made with 100% organic grapes, the fruit is usually picked in mid-October for optimal ripeness.
2019 Nicolas Potel Macon-Villages 21.00 17.85VS
Based on our tasting of 2019 white Burgundies released to date, it is our expectation that the vintage will be excellent to outstanding! Aromatics of roses, verbena, citrus fruits, and lemon grass are complemented on the palate with balanced acidity and notes of fresh almonds and ripe peach, reminiscent of Meursault. Vinified in stainless steel and then aged in 80% stainless steel and 20% neutral used oak barrels for 6-9 months, this small amount of oak aging adds texture and complexity.
2018 Vignoble Guillaume Pinot Noir Vin de Pays de Franche-Comte 19.00 16.15VS
The Guillaume family is one of the leading plant nursery owners in Europe, providing grafts to many top wineries in Burgundy, Champagne, Piedmont and Tuscany. Their 43 hectare of vineyards are located just 40 kilometers east of Burgundy's famous Côte de Nuits before you reach the Jura. Vines are rigorously tended, emphasizing maximum exposure and low yields. This delicious Pinot Noir has a crystalline ruby-red color. Red fruit aromas of cherry and ripe strawberry are framed on the palate by complex flavors of blood orange, hints of chalky-clay earth, and minerality. From the softer and approachable 2018 vintage, this medium weight Pinot drinks perfectly now and should develop nicely in the bottle over the next year or so. A great choice for those who enjoy both red Burgundy and Oregon Pinot Noir.
2017 Tolaini Al Passo Toscana 25.00 21.25VS
"The 2017 Al Passo is a blend of equal parts Sangiovese, Merlot and Cabernet Sauvignon. Open-knit and plaint, with soft curves, the 2017 offers tons of immediacy. Cedar, tobacco, dried herbs and macerated cherry all meld together in an inviting, mid-weight Tuscan red to that will drink well for many years." — Antonio Galloni This is an absolute steal for those looking for a Super Tuscan red like Sassicaia, Solaia, Tignanello or Ornellaia at a mere fraction of the price.
2018 Orr Merlot Columbia Valley 25.00 21.25VS
Our good friend Erica Orr is Washington's oracle of Chenin Blanc and Greanche. She now has added Merlot to her portfolio, coaxing magic from this grape variety. Maybe we now refer to her as the "Merlot whisperer"? 🙂 The 2018 Orr Merlot is a blend of 80% Merlot and 20% Cabernet Sauvignon from sustainably farmed Stillwater Creek Vineyard in the Columbia Valley's newest AVA, The Royal Slope. Beguiling elements of roasted red pepper, plum and pomegranate are classic for Washington Merlot. The palate is fresh and balanced. Seamless with silky fine-grained tannins, you can feel that some of the structure and concentration is delivered by the Cabernet component of this blend, with just the right amount of oak influence that makes it easy to reach for a second glass!
THE FIRST MCCARTHY & SCHIERING DRY ROSÉ 6-PACK OF 2021
NOW IN STOCK
GRAB AND DASH! — 99.95 net
6 bottles for an average price of $16/bottle!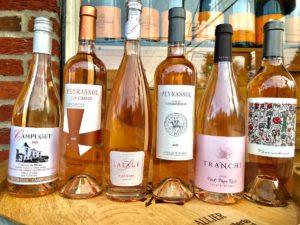 2020 Campuget Tradition Rosé Costières de Nimes 13.00 11.05VS
30% Grenache Noir, 70% Syrah
Imported by our good friends at Dreyfus-Ashby (who bring us Maison Joseph Drouhin Burgundies and Domaine Drouhin Oregon), this pale-pink rosé from France's Rhone Valley spells pleasure and easy drinking. An aroma of cherry blossom, raspberry, strawberry, cut stone, and a hint of smoke precede the delicate flavors of white peach and pink grapefruit, lifted by stony minerality before finishing with refreshing lemony acidity.
2020 Peyrassol Cuvee La Croix Rosé Méditerranée 17.00 14.45VS
50% Grenache, 40% Cinsault, 10% Syrah
Beautiful pale pink in color, with a distinct bluish hue. This expressive blend opens immediately with notes of small red fruits carried on a savory undertone of garrigue. There is focused acidity on the palate that gives this lively wine its truly thirst-quenching character. An accessible blend in the true style of Provençal rosé — delicate, with flavors of light red fruits and a hint of minerality.
2020 Famille Lafage Miraflors Rosé Cotes Catalanes 19.00 16.15VS
50% Mourvedre, 25% Grenache Gris, 25% Grenache Noir
Sourced in part from old vines, some almost 80 years old, Miraflors comes from southeastern France's Languedoc-Roussillon region near the Mediterranean, just north of Spain. Aromas and flavors of white cherry, plum, peach, honeydew, wild iris, and strawberry.
2020 Peyrassol Cuvée des Commandeurs Rosé Cotes de Provence 25.00 21.25VS
40% Grenache, 35% Cinsault, 15% Syrah, 10% Rolle
Its light rosy appearance is delicate in color and an expressive aroma lends charm to this blend. The palate is dominated by wild berries — gooseberry and raspberry, that reveal themselves in a crisp, silky mouthfeel enhanced with a touch of minerality. Simply brilliant!
2020 Tranche Pink Pape Rosé Blackrock Vineyard Estate Rosé Yakima Valley 20.00 17.00VS
30% Grenache, 27% Cinsault, 23% Mourvedre, 20% Counoise
Pale salmon pink in color with a distinct light garnet hue. Aromas of strawberry fields, morning dew, kiwi, and passion fruit, with lifted notes of stone fruit blossoms. Bright on the palate with flavors of ripe citrus, underscored by mountain berries and key lime. Balanced acidity, a touch of salinity, and a long, mineral-driven finish.
2020 Lu & Oly (Mark Ryan) Flowerhead Rosé Columbia Valley 20.00 17.00VS
89% Sangiovese, 6% Merlot, 4% Syrah, 1% Grenache
Strawberry and raspberry combine with delicate peach and cherry flavors progressing into apricot and lime zest. Delicate with crisp acidity. The beautiful, complex artwork displayed on the Flowerhead label was created by Kyler Martz, an illustrator and tattoo artist in Seattle.